How it started
FPS Public Health issued a tender for the search for a partner who could supply a secure badge. A badge that had to be protected in a physical way – so that it could not be counterfeited – and it had to contain secure electronic data that could then be used to give the supplier access to systems and online services that can only be accessed with this secure badge.
The badge in combination with a PIN establishes the identity of the paramedic, so that he can identify himself on systems that check whether you do have accreditation to perform certain things. It is an ID for paramedics that will allow/deny you access to certain systems.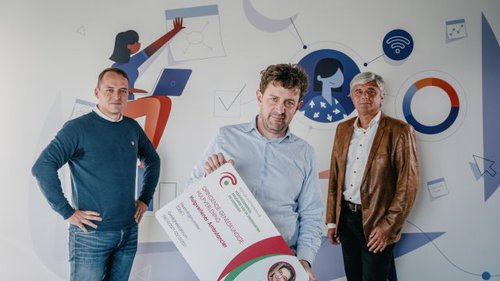 In addition to paramedics, nurses and doctors - linked to emergency care via an ambulance or MEG service - can use this badge system as well. The police can read this badge as well if a person wants to enter a disaster area, so that authorized persons only (nurse, doctor, firefighter) can enter a closed perimeter.
E.g., A paramedic or an emergency medical care provider can only read and/or change patient data after he is registered in an ambulance. For this you have to tap an identity document - the personalized badge - against a tablet (via contactless connection) and then confirm your identity with a PIN code. This two-factor authentication ensures the identity of the healthcare provider.
Central
management
system
As an extension, the FPS Health needs a management platform to distribute these badges through their ambulance services. A badge can be blocked immediately in the event of loss/theft via the central management system.
E.g., A paramedic accreditation is only valid for 5 years. A few weeks/months before the diploma expires, you will receive a request to upload a new certificate of accreditation so that you can demonstrate that you are still qualified. If you do not submit this on time, your badge will be automatically blocked on the expiry date of your diploma.
How do you obtain such a personalized badge?
It all starts with a competency exam, which is valid for 5 years. Once you pass, your name will be added to the ECAD database of the FPS Health and you're an accredited paramedic.
The paramedic asks his ambulance service to launch an application for a badge via the management platform. After submitting the application, the paramedic will receive an email directing them to the management platform where a photo, using his e-IDand a diploma can be uploaded. The ambulance service guarantees the correct completion of all data and the FPS Health checks the diploma. After approval, the paramedic receives a permit that is automatically forwarded to Dioss to create a personalized badge.
Custom solution
Dioss Smart Solutions is a software development company specializing in identity products. We are the go-to company for specialized integration projects in identity, authority and signing solutions.
Dioss Smart Solutions is part of the Dioss Group, which also includes a print and smart card division. This enables us to facilitate a one-stop-shop experience for FPS Health. Dioss makes the personalized badge and is responsible for sending it to the ambulance service, which takes care of the further distribution.
Scroll down