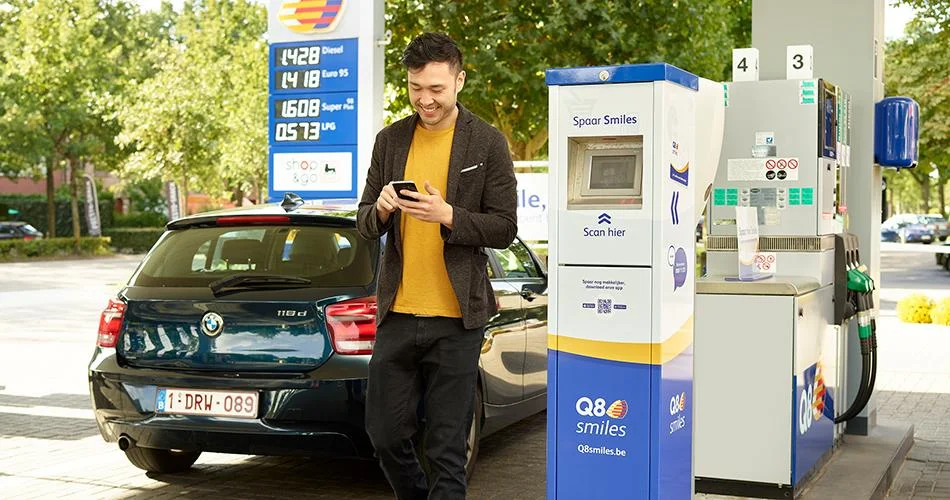 Q8 Belgium is part of Kuwait Petroleum International, one of the largest petroleum processing companies in the world. Q8 Belgium employs a total of five hundred people in retail, direct business, lubricating oils and the sale of domestic heating oil.
Our longstanding partnership started way before the current 'Q8 Smiles Program'. Dioss Smart Solutions was already a trusted partner for the development and maintenance of the 'Q8 Delhaize Plus Program'.
Q8 Smiles
When Q8 started it own loyalty program, no longer together with Delhaize, they were looking for a Loyalty partner. However they needed a supplier to connect all station equipment from different suppliers to this new loyalty platform.
Dioss created a 'central proxy' to connect and translate the station info and transactions and connect to the loyalty system in a specific API format.
The communication for Mobile Fueling passes through Dioss Proxy to communicate between user app and station pumps.
In concrete terms: if a customer refuels at a Q8 station and uses his loyalty card or Mobile app for payment, it is Dioss who connects you to the system and checks whether loyalty or discount can be given. The original roll-out was only in Belgium, but in the meantime Q8 Luxembourg and Tango stations (Netherlands) have also joined the Q8 Smiles program.


Dioss Smart Solutions' added value
The Smiles Loyalty server from a third party needed flexibility to connect to different station POS vendors. For the loyalty program everything needed to be transparent, so Dioss provides a translation layer to bring all different POS suppliers together into one program/language/connection. At Q8 you can of course redeem your smiles at the station itself (Indoor) or at a Q8 smiles kiosk. These Kiosks are developed (hard- and software), installed and maintained by Dioss.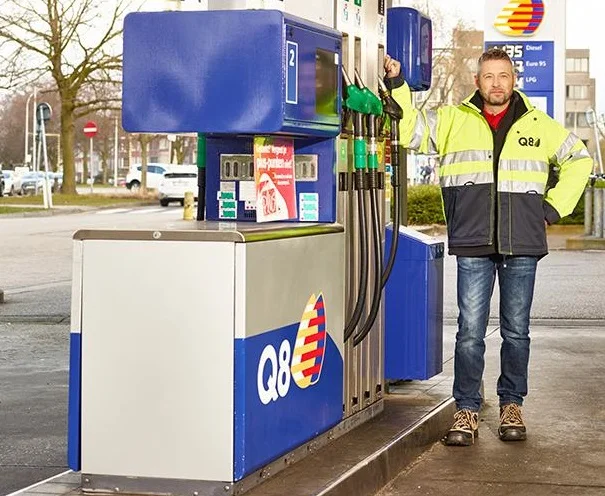 © Q8
Q8 proxy management application
Q8 can also manage some of the translation mappings and settings using the proxy management web application. In this web application it is also possible to monitor connections and transactions timestamps from the different stations in the Smiles program.
Custom solution
Dioss Smart Solutions is part of the Dioss Group which also includes a print and smart card department. This enables us to facilitate a one-stop-shop experience for Q8. We do not only supply the Q8 terminals, we also provide the stickers and hardware support on site.
Via Q8 cards – a platform developed by Dioss for the dealers of Q8 – the dealers can order flyers, cards, etc. These cards and flyers are printed, and shipped by Dioss Print Solutions.
Scroll down