These general terms & conditions govern Dioss Smart Solutions offer of Quill services. Dioss Smart Solutions is referred to as Dioss below. By using this service, you confirm that you are legally bound by these general terms & conditions, as amended from time to time. If you do not agree with any of these general terms and conditions, please refrain from using the service.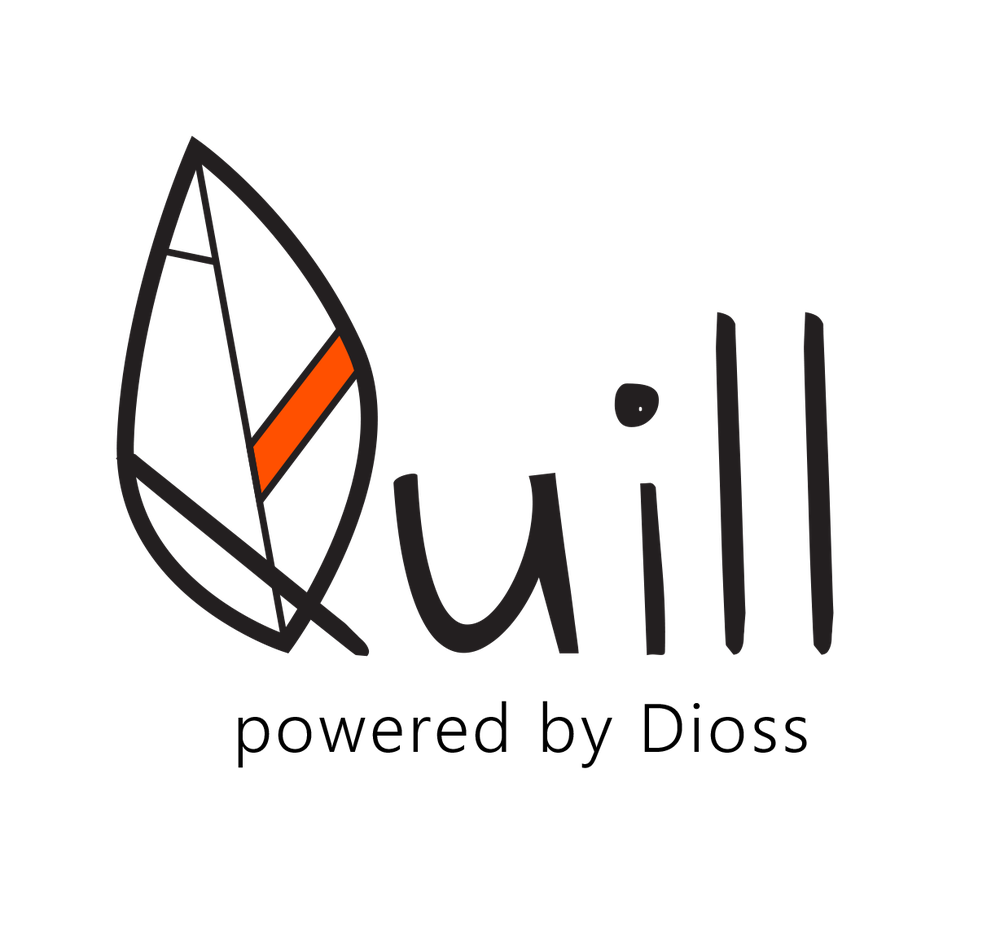 Quill is offered by Dioss and is an easy to use web-based eSigning solution that provides user, document and workflow management. It is targeting B2B and B2C signing and sealing use cases including support for the Belgian eID card, itsme, qualified electronic signatures, seals, etc. Both senders and signers are counted as users.
Availability
The service remains under the sole control and discretion of Dioss and can be altered or shut down at any time. Dioss makes no guarantees as to the performance or uptime of this service.
Intellectual property
The Quill service constitutes a creation protected by copyright. All texts, lay-out, drawings, photos, films, graphics and other elements of this site are protected by copyright. Any copy, adaptation, modification, traduction, arrangement, communication to the public, location or any other exploitation, of any part or whole of this site, under whichever form or by whatever means, whether electronic, mechanical or by other means, is strictly prohibited, except prior authorisation in writing by Dioss. Any infringement to these rights is liable of civil and criminal proceedings.
Liability
The Quill platform is created and maintained by Dioss with the utmost care. However, Dioss cannot guarantee the exact nature of the information contained in this platform. The user agrees that such information may be modified without prior notice. Dioss declines all liability for the content of this platform, as well as for the use made of such content. Dioss cannot be held liable for the content or the existence of other platforms, to which hyperlinks are created.
You may be held liable to indemnify Dioss and it's partners, clients or subcontactors for any damages suffered by your violation of this agreement, by your misuse of the services or violation or infringement of copyright or other intellectual property rights in the context of the Quill services.
Right of withdrawal
Documents are removed based on the sender company settings (with a maximum of 1 year after the signing and approval flow has finished). Please contact dpo.smartsolutions@dioss.com with any concerns.
Security
You acknowledge and accept that while Dioss makes every effort to provide a secure environment, no claims can be made in case of any issues. We reserve the right to suspend your right to use the service in case of suspicion of improper or fraudulent use or for any other objective security reason.
Fair use
You acknowledge and accept that:

You will only send documents for signing to people that will expect this document from you
You will only send documents with normal non illicit or non criminal content
You will enter data correctly as you see it
You will not impersonate anyone else
You will not use this service for test purposes
You will not try to abuse nor exploit any of the systems or services
Privacy
The sender's data shall only be used as stated in the Privacy Statement and the FAQ, and will also be made known to the recipient/signer.
Unless otherwise negotiated with Dioss, you may not use these services to reproduce, duplicate, copy, sell, resell, distribute, publish or exploit for any commercial purpose the software, content, offers, experiences, products or services provided by Dioss.
GO BACK TO QUILL
GO BACK TO DIOSS FAQ
Scroll down